Welcome Back To The Graham!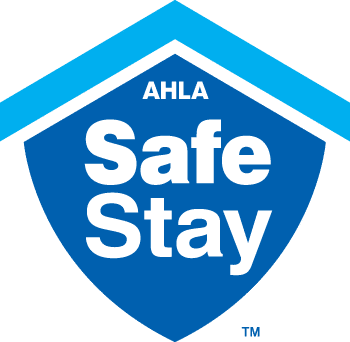 At the Graham Georgetown, we are committed to providing you with a comfortable & safe environment, supported by expert protocols for a hygienic and secure visit. We've partnered with Georgetown University, as well as the American Hotel & Lodging Association (AHLA), to implement and practice leading-edge strategies all designed to ensure you a healthy and relaxing stay.
Everyday we are working to ensure that guidelines given by the CDC, AHLA, and District of Columbia are upheld beyond expectations. Expert advice from Dr. Jesse Goodman, a Georgetown Medical Public Health Physician, allows us to confidently redefine our cleaning standards and safety protocols. With safety being our top priority, we closely monitor team cleanliness education, standards in hotel operations, food & water safety, and contamination prevention.
---
HOW WE DO IT
We actively monitor and develop our solutions to ensure a continued focus on the health and safety of our guests and team members.
Face Coverings
To promote the health and safety of our communities, face coverings are required for guests and associates in all public areas at The Graham Georgetown.
Public Spaces
Starting with our public spaces and high-traffic areas, we are going above and beyond our normal protocols. We are cleaning surfaces with increased frequency, dedicated staff, and recommended cleaning agents.
Hand Sanitizer
Hand-sanitizing stations are conveniently located at the hotel entrance, our elevator lobbies, gathering spaces and throughout all public areas.
Social Distancing
Signage in public spaces will remind our guests to maintain social distancing. Elevator occupancy is limited to no more than one party at any time. The Rooftop at the Graham and the Alex Speakeasy have also adjusted operations to meet District of Columbia re-opening safety guidelines. Check here or here for their up-to-date information on operating hours and service information.
Guest Rooms
In guest rooms, we have elevated our rigorous protocols to thoroughly clean all surfaces with hospital-grade disinfectants. To minimize in-room contact, our team members will not enter a guest room if a guest is present except under emergency circumstances. We've adjusted our housekeeping schedules to accommodate guest requests; just let us know how you'd like us to take care of your room during your stay. We have also partnered with a hygienically clean + HLAC Certified Laundry, meaning your linens are processed with the strictest wash and finishing protocols in the country.
Contactless Graham Personal Service
Using our convenient app, you'll now have the opportunity to check in, access your room and check out all via your mobile device. In addition, you'll be able to control many of the functions in your room with your device, including remote television control and in-room dining options.