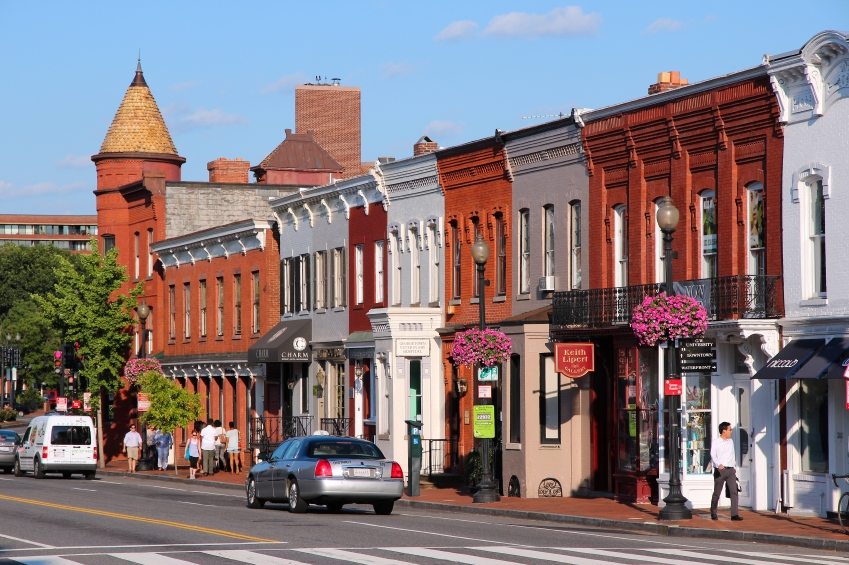 Just up Thomas Jefferson Street from the Graham Georgetown Hotel, M Street is an iconic stretch of boutiques, restaurants and bars. For your afternoon out perusing this favorite local area, here are a few tips on where to shop, eat and drink.
SHOP
M Street is comparable to New York City's 5th Avenue and Newbury Street in Boston as a destination lined with world class designer boutiques. Men can do well at retailers like Barney's, Banana Republic and AllSaints Spitalfields. Women have a bevy of fun boutiques—Cusp Georgetown and Hu's Shoes—as well as household name shops like Coach, Victoria's Secret and Free People.
EAT
As with its retail options, M Street offers visitors an exceptional variety of places to grab a bite after a long afternoon of trying on and buying clothes. One of our favorite restaurants in Georgetown, Bodega, is a Spanish tapas lounge with golden and crunchy chicken croquettes and spicy-delicious patatas bravas. Another dynamite option is Clyde's of Georgetown, which has some of the best crabcakes in DC as well as other American favorites like burgers and meatloaf.
No matter where you eat dinner on M Street, though, you need to wrap things up at the world famous Georgetown Cupcakes with one of their many gourmet desserts.
DRINK
M Street keeps up its eclectic face when afternoon turns to evening and people start searching for a buzz. Enjoy good old fashioned cocktails and domestic tap beers at Ri Ra Irish Pub, or head to Thunder Burger and Bar, a sports-centric hotspot where you can hoot and holler with Georgetown University's most loyal fans. Lastly, for the more elegant and conversation inclined drinkers, try ENO Wine Bar where an international menu speaks to casual wine drinkers and aficionados.